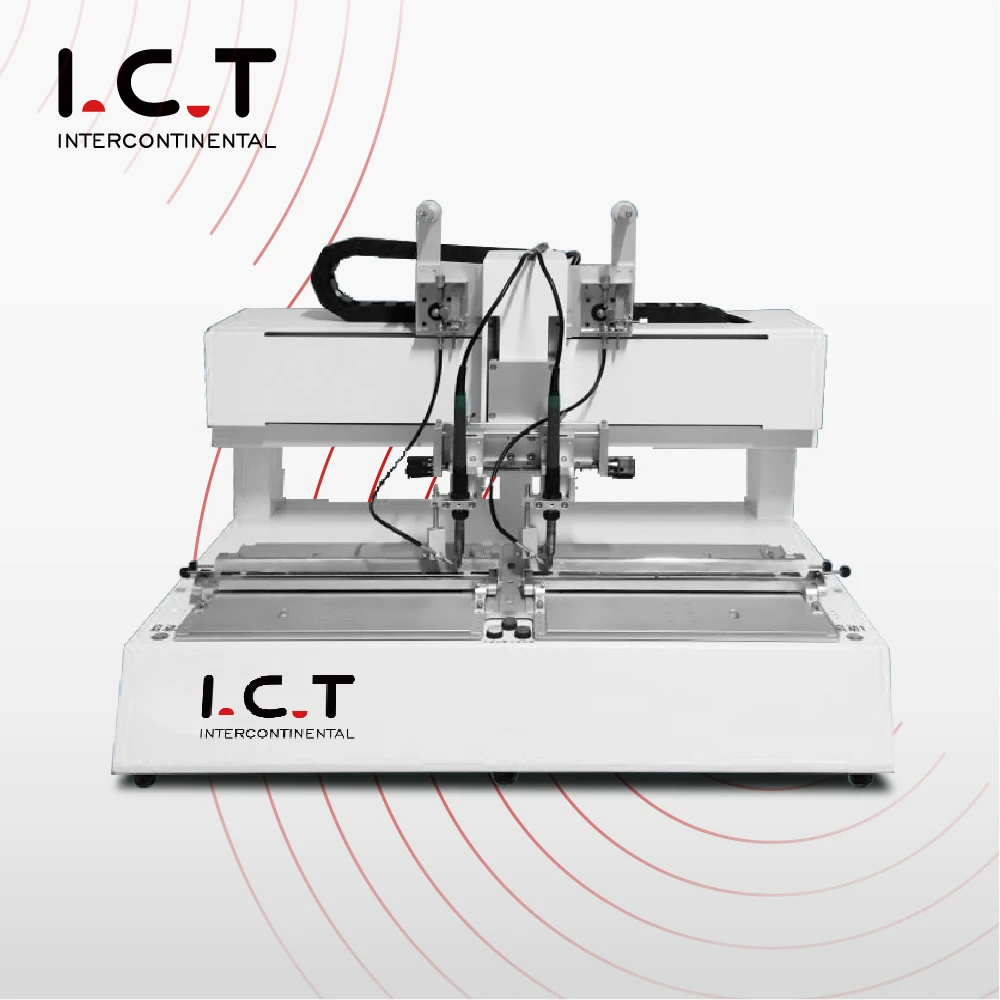 Favorablestable On Site Installation tm robot screw
Favorablestable On Site Installation tm robot screw
❙ Introduce of Automatic Screwing Robot
This machine include two parts: electric screwdriver and automatic screwfeeder.It puts the automatic screwfeeder together with the electric screwdriverinordertoachieve the complementofscrew transmissionandfix,whichcan greatlyimprovetheproductionefficiencyandsave manpower.Oncethescrewdriverisliftedafterlockingascrew,anotherscrewwillbesentcontinuouslytocontinue theoperation,whichis particular suitable for the work piece of multi-station with the same specification.
Features:
1. Cost saving:High-efficiency operation is achieved by onlyone person.one person's efficiencyamounts to 3-5 persons' efficiency.
2. High efficiency:the number of electric screwdriver of the Z axis is customizable according to customers' requirements. Several electric screwdriverscanworkatthesame time.
3.X,Y,Z,axisadoptqualitystep motorwithit'scontorlsystem,makemachine runsmoothlyandprecisely.
4.Windows 7Englishoperationsystem,usetouchscreenwithwirelesscontrollerandteachmethodforprogramming,workingveryeasy. 5.Self-developedadvancedsoftware,fool-styleprogrammingwithwirelesscontrollerlikeplaygame ,allparameters canbesetinoneprogram. 6.Oneworkercanoperate 2-3robots.whatthisworkerdoesisonlypickandplace fixture.
7. Robot is strictly customized based on requirements on products,in line with requirements of production line.

Applications:


❙ Specification of Automatic Screwing Robot
Model
I.C.T-SR330

I.C.T-SR540

I.C.T-SR640

Max. Range Size

300*300mm, Z:80mm

500*400mm, Z:80mm

600*400mm, Z:80mm

Head Number

1
1
2
Platform Number

1
2
2
Screwdriver

SD /KILEWS/HIOS

Screw Feeding

Pick and Place,Magnetic

Programming

Traction Teaching Program

Driving Mode

Closed-loop Motor

Control Mode

Microcontroller+Touch Panel

Dimension(mm)

670*540*690

670*590*690

1010*730*690

Weight

Approx:70kg

Approx:90kg

Approx:130kg

Click Here Get More Informaion!

❙ I.C.T Customer Factory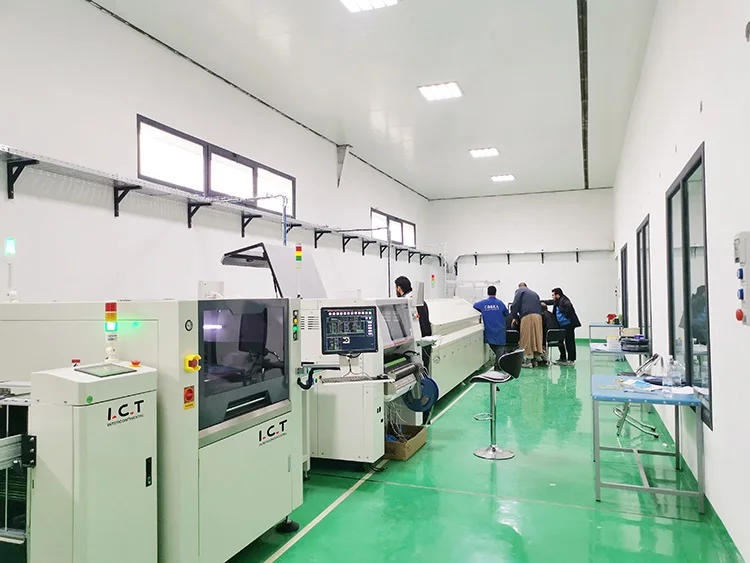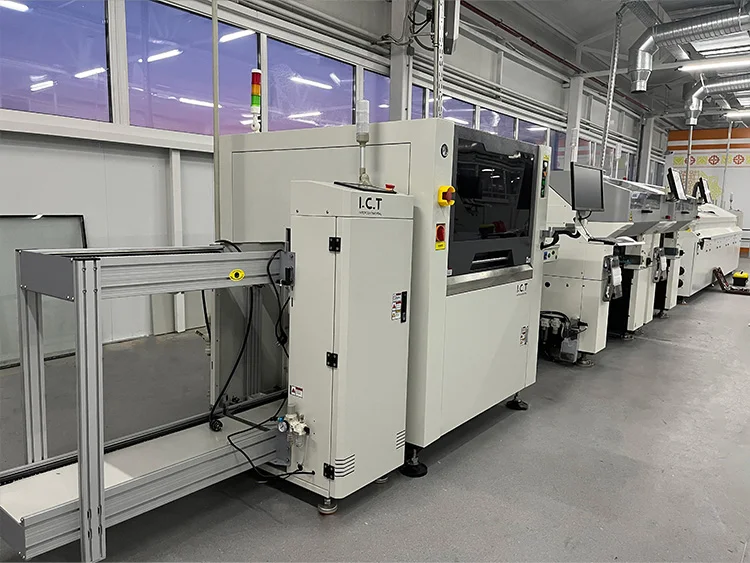 ❙ Company Profile
I.C.T is a manufacturer of SMT machines. It mainly provides customers with SMT Production Line including SMT Stencil Printer, Pick and place machine, Reflow Oven, SMT AOI Machine, Wave Soldering Machine and PCB Handling Machine etc.
I.C.T has more than 25 researches on SMT and DIP technology, for the world Customers provide SMT total solutions. There are successful cases of SMT technical team in Asia, Europe, America, Africa, and Australia.
I.C.T provide SMT solutions at various stages according to the different needs of customers. I.C.T is not only a provider of SMT equipment and technology, but also is the customer's escort in the field of SMT and DIP.
Successful Experience:
I.C.T's Customer In 35 Countries Around the World
1. We Have Been Helping Customers To Build a Lot of New Factories Around the World.
2. Training More Than 500 Experts and Technician for Customers.
3. Became the Most Reliable Chinese Partner for You.
For SMT Factory Setup, We Can Do for You:
1. We Provide Full SMT Solution for You
2. We Provide Core Technology With Our Equipments
3. We Provide The Most Professional Tech Service
Click Here Get More Informaion!
❙ I.C.T SMT Machine Exhibition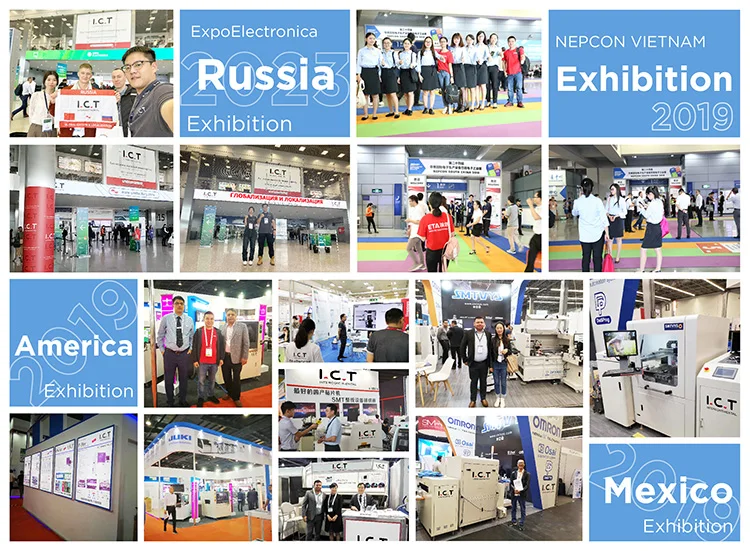 ❙ I.C.T Global Service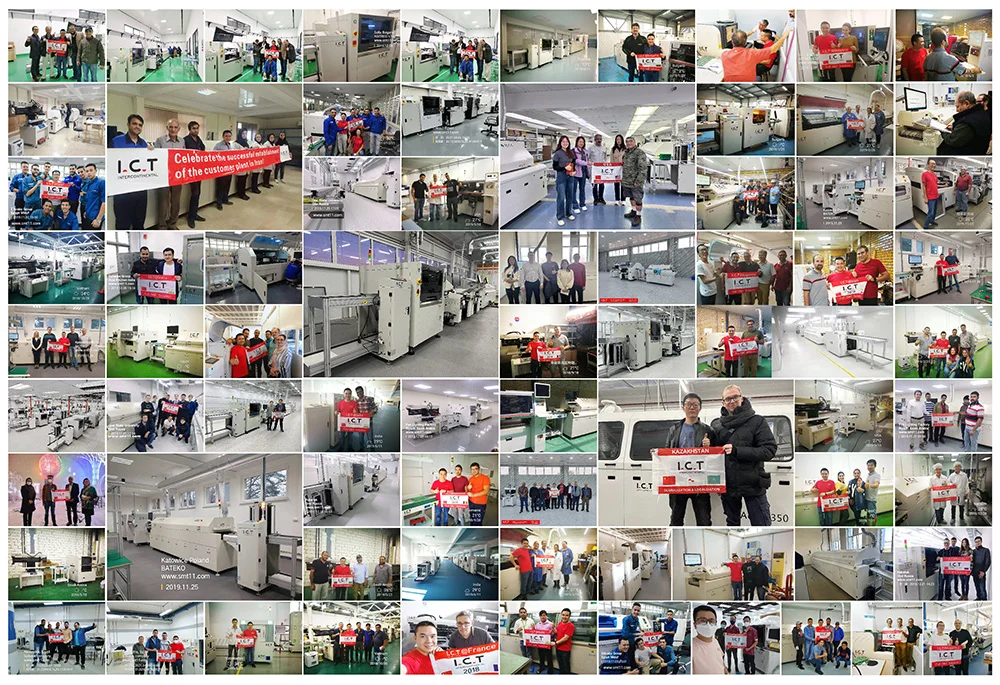 Welcome more people to discuss with us about SMT technologies and solutions, please Contact Us for more information:
Tel: +86 13670124230 (WhatsApp/Skype/WeChat), Email: info@smt11.com / etasmt@foxmail.com
❙ Automatic Screwing Robot