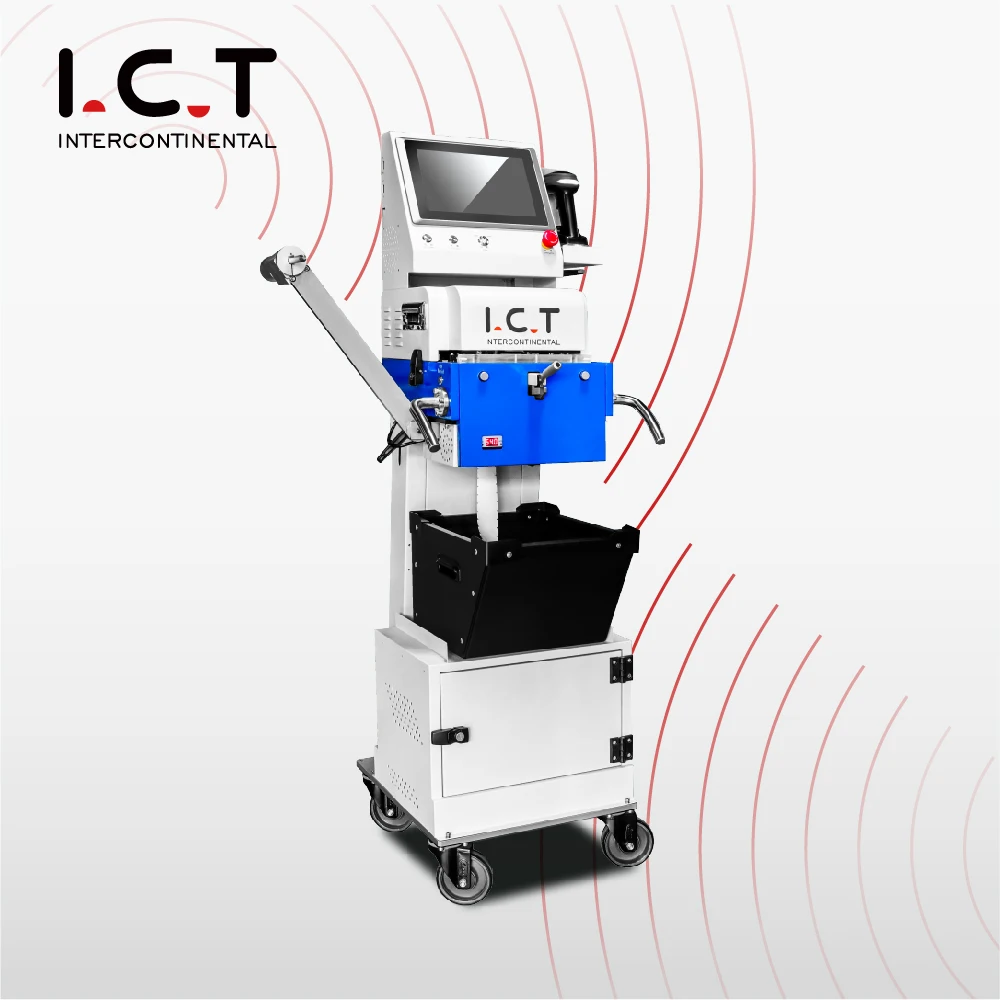 I.C.T SMT Automatic Intelligence Splicing Machine
SMT Automatic Intelligence Splicing Machine

Introduce:
I.C.T SMT Automatic Splicing Machine is developed to meet the requirements of SMT automatic production line for fast refueling without
shutdown. It can automatically detect the position of empty component, accurately cut and over probability of more than 98% for the head
and tail of two rolls of material belts with the same specification. It can be equipped with RC measurement function to reduce dependence on
manpower, reduce management cost, improve detection efficiency, improve the production rate of SMT production line and avoid batch
misfeeding, I.C.T smt splicing machine has completed the full coverage of 4-72mm feeder.
Process:

1.Simple operation: learn to operate in 5 minutes, everyone can operate, and reduce dependence on personnel.
2.Error proofing: automatic code scanning and error proofing, which can be connected with the customer's MES for double foolproof.
3.Empty components detection: CCD detection can identify the above 01005 .
4.Accurate traceability: connect MES production system to facilitate customer traceability.
5.Increase the production line production rate: increase the production line production rate of SMT with a probability of more than 95%.
6.Determination of measured value: RC measured value function can be selected to avoid batch wrong components.
7. Labor saving: one person operation realize two smt lines.
8. Determination of empty components level and spacing: use CCD optics to automatically detect the presence or absence of components, and
automatically and accurately calibrate the cutting position of components.
9. Recycling: after the components is received successfully, the operator will press the components reel recycling button for a long time to
realize automatic material collection, which is convenient and fast.
10. Accurate and efficient: each time only about 10s to complete.
Success rate of splicing: 99.19%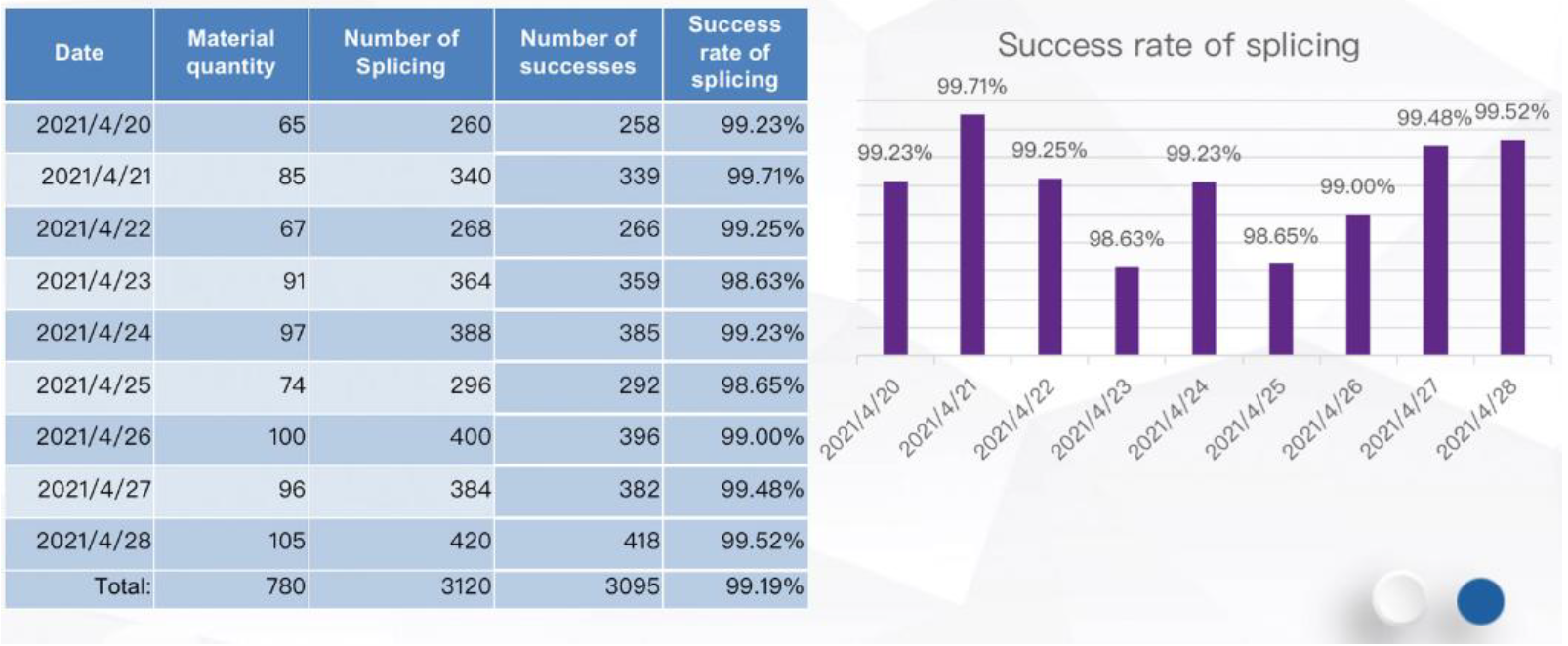 SMT Automatic Intelligence Splicing Machine
Mode
I.C.T-ASM08
I.C.T-AISM08
I.C.T-AISM24
I.C.T-AISM72
Applicable Mounter
Full SMT brand
Splicing Mode
Auto cutting and Splicing
Splice Clip-Frame
Splicing Tape Size
32mm
32mm
32mm*2
45*17mm
Splicing Tape Package
Reel
Splicing Cycle Time
6-12sec (excluding manual operation and empty tape detection time)
Passing rate on Mounter
95%
98%
98%
99%
Dimension / mm
550*470*1300
400*470*1400
400*470*1400
400*460*950
Weight
Approx: 65KG
Approx: 65KG
Approx: 75KG
Approx: 50KG
Q: What we can do for you?
A: Total SMT Machines and Solution, professional Technical Support and Service.
Q:Are you a trade company or a manufacturer?
A: OEM & ODM service are available.
Q: What is your delivery date?
A: The delivery date is about 35 days after receipt of payment.
Q: What is your payment terms?
A: 30% deposit in advance and 70% balance before shipment.
Q: What your main customers?
A: Huawei,Foxconn,Vtech,Sumida,Kemet,Vishay,Bosch,Canon.
Q: Why choose us?
A: Leading SMT Supplier in China; Trade assurance to USD 560,000+; Professional after-sales service team.
Keywords:
SMT Production Line, PCB Assembly Line, Printer Stencil,Stencil Printer Machine, Ir Reflow, Soldering Oven, Wave Soldering Machine Desktop Selective, Juki High-Speed Smart Placement Machine, Conformal Coating Machine, PCB Coating Machine, SMT PCB Metal Coating Machines, PCB Coating Spraying Gluing Machine, Atc PCB Cutting Making Machine, CNC PCB Laser Cutting Machine, LED Bulb PCB Cutting Machine, PCB Tungsten Carbide V-Cut Disc Grinding Machine, 3 Axis PCB Milling Kits, V Cut Groove PCB Separating Separator
I.C.T is a manufacturer of SMT machines. It mainly provides customers with SMT production lines including SMT Stencil Printers, Pick and place machines, Reflow Oven, AOI Machine, Wave Soldering Machine and PCB Handling Machine etc. I.C.T has more than 25 researches on SMT and DIP technology, for the world Customers provide SMT total solutions. There are successful cases of SMT technical team in Asia, Europe, America, Africa, and Australia.
I.C.T provide SMT solutions at various stages according to the different needs of customers. I.C.T is not only a provider of SMT equipment and technology, but also is the customer's escort in the field of SMT and DIP.
Welcome more people to discuss with us about SMT technologies and solutions, please contact us for more information:
Tel: +86 13670124230 (WhatsApp/Skype/WeChat)
Email: info@smt11.com / etasmt@foxmail.com