I.C.T SMT Economic Type Reflow Oven
I.C.T SMT Economic Type Reflow Oven
❙ Introduce of Reflow Oven
I.C.T is focused on providing advanced Reflow Oven and technology to electronics manufacturers. The I.C.T reflow oven control system is controlled by PC and Siemens PLC in Germany. The first-class heating module is more energy efficient.
1. Control System
Computer or Instrument control, make sure machine working steadily.
2. Hot Air Heating System
Both top and bottom zones hot air heating, good heater compensatory,High thermal efficiency, energy saving, speedy heating, suitable for soldering components like BGA,CSP etc.Special forced hot air circulation structure makes PCB and components heat evenly, Temperature Accuracy ± 1.5 °C, room temperature settling time less than 20 minutes.
3. Cooling System
Independent cooling area ensures the low temperature when PCB comes out.
4. Transmission system
Use imported motors, speed adjuster, smoothly running, adjustable speed at 0-2000mm/min.

❙ Specifications of Reflow Oven
Model
Lyra 622

Lyra 622N

Lyra 732/ 733

Lyra 732N/ 733N

Quantity of preheating zones

6
6
7
7
Quantity of peak zones

2
2
3
3
Max. soldering temperature

pre-heating zones 300 °C and peak zones350 °C

Quantity of cooling zones

2
2
2
3
Mesh Width

Standard 440mm( Option 560 & 680mm )

Rail Width

Single Rail: 50 - 460mm, Option: 50 - 686mm other Width on request. Duo Rail Standard: 50 - 290mm*2

Dimensions

5150*1400*1500mm

5150*1400*1500mm

5850*1400*1500mm

6250*1400*1500mm

Weight

2400 kg

2600 kg

2800 kg

3000 kg

Model
L8
L10
Dimension (L*W*H)mm
5000x1250x1490
5800x1250x1490
Weight
Approx. 1600KG
Approx. 1800KG
Number Of Heating Zones
Up8/Bottom8
Up10/Bottom10
Length Of Heating Zones
3121mm
3891mm
Rail Width Adjustment
M(option:A)
Exhaust Volume
10M3/minx2 Exhausts
Control System
PLC+Computer
Temperature Control Method
PID + SSR
Transmission Agent
Chain + Mesh
Electric Supply Required
3 phase,380V 50/60Hz
Power For Warm Up
55KW
64KW
Power Consumption
8KW
12KW
Warming Time
Approx.25 minute
Temp. Setting Range
Room Temp.-- 300°C
Conveyor Height
900+/-20mm
Conveyor Speed Range
300~2000mm/mi
Fixed Rail Side
Front Fixed (Option:Rear Fixed)
Cooling Method
Forced-Air Motor and fan (Standard)

Get More Information with Just One Click!
❙ I.C.T Customer Factory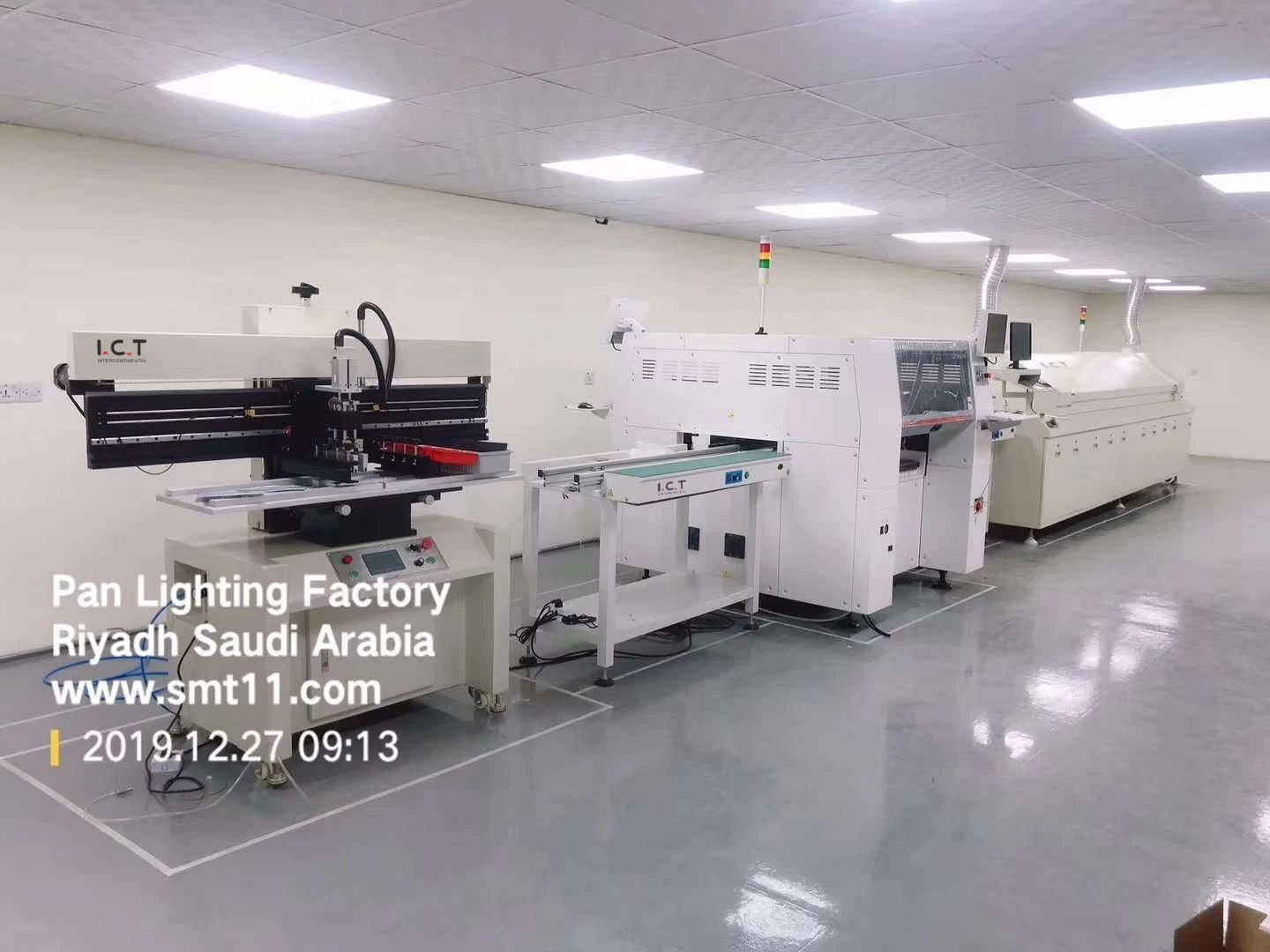 ❙ Company Profile
I.C.T is a manufacturer of SMT machines. It mainly provides customers with SMT Production Line including SMT Stencil Printer, Pick and place machine, Reflow Oven, SMT AOI Machine, Wave Soldering Machine and PCB Handling Machine etc.
I.C.T has more than 25 researches on SMT and DIP technology, for the world Customers provide SMT total solutions. There are successful cases of SMT technical team in Asia, Europe, America, Africa, and Australia.
I.C.T provide SMT solutions at various stages according to the different needs of customers. I.C.T is not only a provider of SMT equipment and technology, but also is the customer's escort in the field of SMT and DIP.
Successful Experience:
I.C.T's Customer In 35 Countries Around the World
1. We Have Been Helping Customers To Build a Lot of New Factories Around the World.
2. Training More Than 500 Experts and Technician for Customers.
3. Became the Most Reliable Chinese Partner for You.
For SMT Factory Setup, We Can Do for You:
1. We Provide Full SMT Solution for You
2. We Provide Core Technology With Our Equipments
3. We Provide The Most Professional Tech Service
❙ I.C.T SMT Machine Exhibition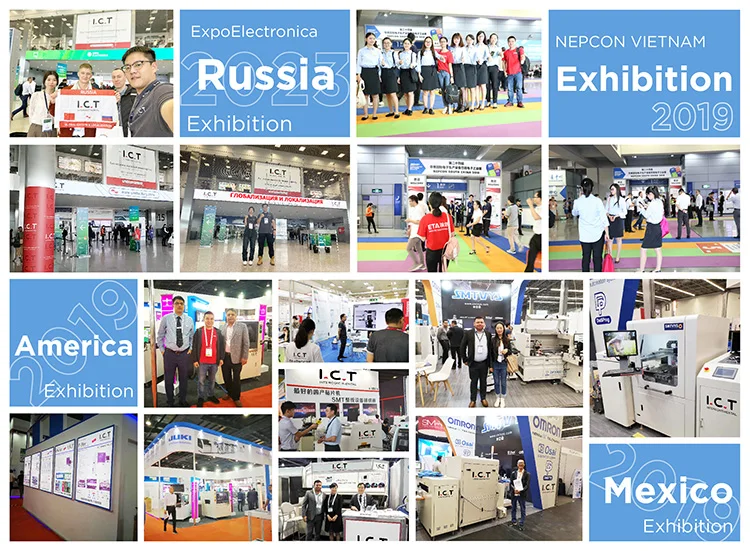 ❙ I.C.T Global Service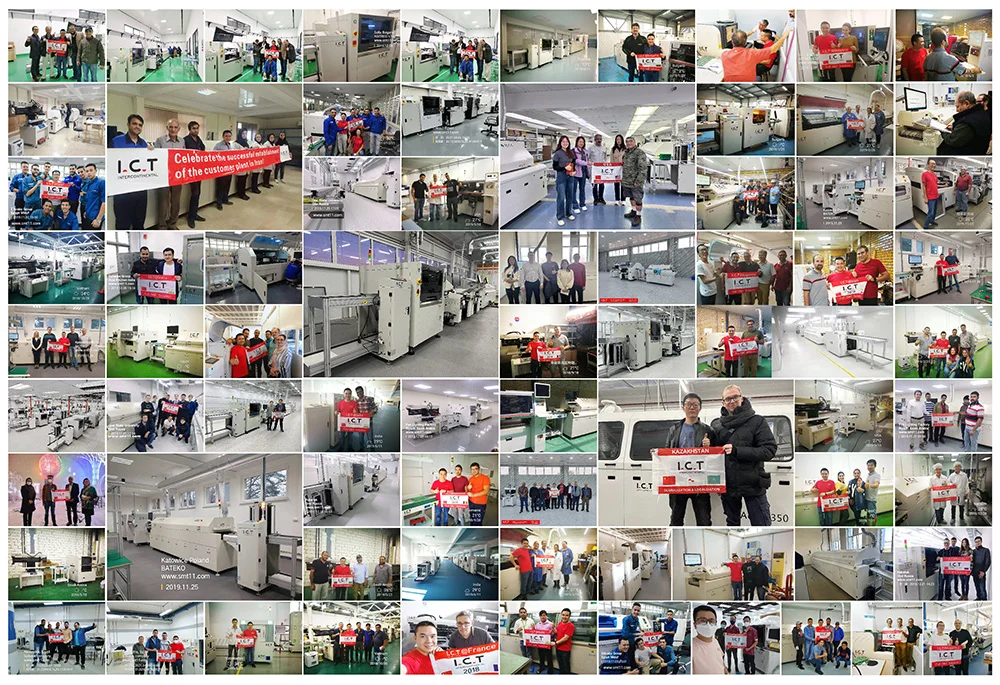 Welcome more people to discuss with us about SMT technologies and solutions, please Contact Us for more information:
Tel: +86 13670124230 (WhatsApp/Skype/WeChat), Email: info@smt11.com / etasmt@foxmail.com
❙ Reflow Soldering Oven Video