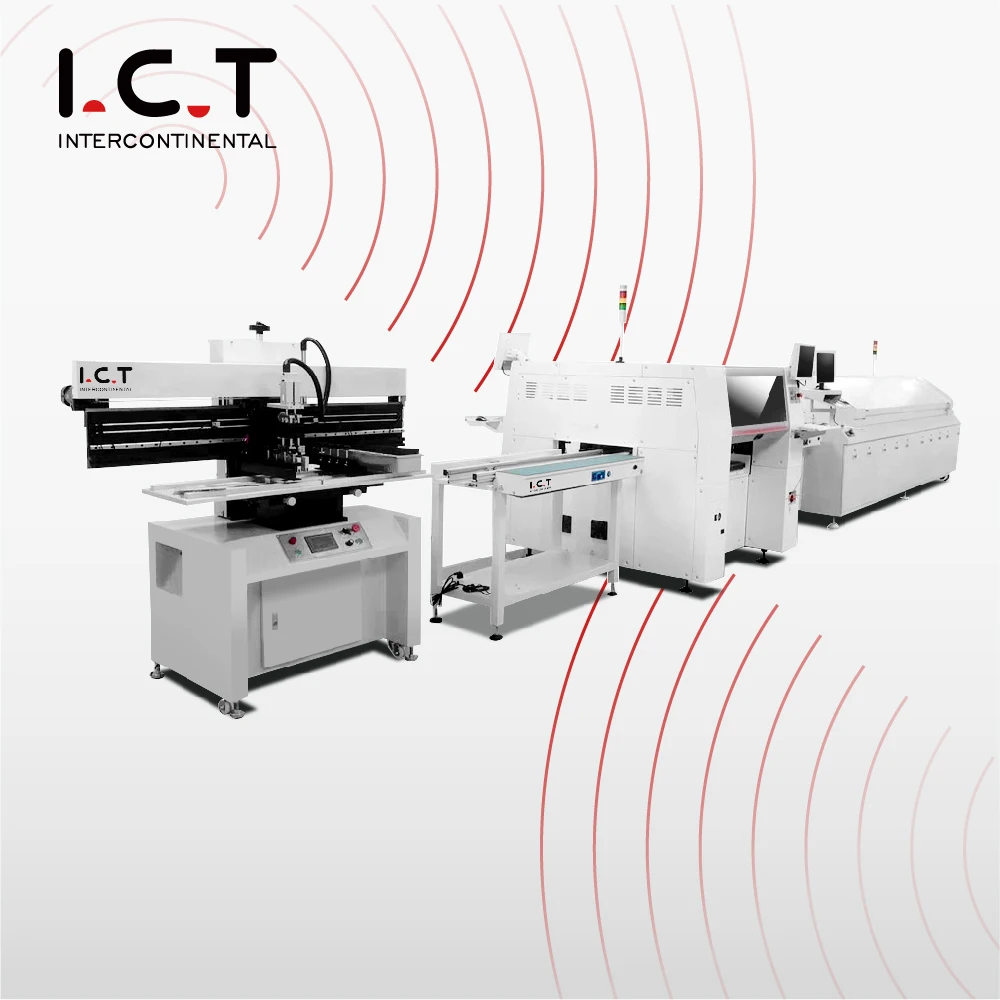 SMT production line SMT pick and place machine Exporting
❙ Introduce of SMT Production Line Machine
❙ Hanwha Pick and Place Machine
Model
Hanwha SM471 Plus

Hanwha SM481 Plus

Hanwha SM482 Plus

Spindles

10 Spindles ×2 Gantry

10 Spindles ×1 Gantry

6 Spindles ×1 Gantry

Placement Speed

78,000CPH(Optimum)

40,000CPH(Optimum)

30,000CPH(Optimum)

Placement Accuracy

±40μm@μ±3σ

±40μm@μ±3σ

±40μm@μ±3σ

Applicable Parts

0402 ~ 14mm(H 12mm)

0402 ~ 42mm(H 15mm)

0402 ~ 55mm(H 15mm)

Applicable PCB

Max. 510(L) x 460(W)(Standard)

Max. 460(L) x 400(W)(Standard)

Max. 460(L) x 400(W)(Standard)

Max. 610(L) x 460(W)(Option)

Max. 1500(L) x 460(W)(Option

Max. 1200(L) x 510(W)(Option)

Dimension(mm)

1650×1690×1458

1650×1680×1530

1650×1680×1458
❙ SMT Stencil Printer
Model

I.C.T-4034
I.C.T-5151
I.C.T-6561
I.C.T-1500(LED)
Frame Size(mm)

470*370 ~ 737*737

470*370 ~ 737*737

470*370 ~ 850*850

470*370 ~ 1800*750

PCB Size(mm)

50*50 ~ 400*340

50*50 ~ 510*510

80*50 ~ 650*610

80*50 ~ 1500*350

TransportDirection

Left-Right; Right-Left; Left-Left; Right-Right

Support System

Magnetic Pin/Up-down table adjusted/support block

Clamping System

Side clamping, vacuum nozzle,Automation retractable Z pressure

Printer Head

Two independent motorised printhead

Squeegee Type

Stainless steel(standard),plastic

Cleaning System

Dry, Wet, Vacuum

Inspection

2D Inspection(Standard)

Power Supply

AC:220±10%,50/60HZ,3Kw

Control Method

PC Control

Dimension(mm)

1220*1355*1500

1220*1530*1500

1330*1530*1500

2500*1220*1500

Weight

Approx:1250kg

Approx:1300kg

Approx:1300kg

Approx:1800kg
| | | | |
| --- | --- | --- | --- |
| Model | I.C.T-5134 | I.C.T-6534 | I.C.T-1200(LED) |
| Frame Size(mm) | 470*370 ~ 737*737 | 470*370 ~ 737*737 | 470*370 ~ 850*850 |
| PCB Size(mm) | 50*50 ~ 400*340 | 50*50 ~ 510*510 | 80*50 ~ 650*610 |
| Dimension(mm) | 1220*1355*1500 | 1330*1530*1500 | 2200*1200*1500 |
| Weight | Approx:1250kg | Approx:1300kg | Approx:1500kg |
❙ Reflow Oven
| | | |
| --- | --- | --- |
| Model | Lyra 622 | Lyra733 |
| Dimension (L*W*H)mm | 5040x1450x1450 | 5800x1450x1450 |
| Machine Weight | Approx. 2200KG | Approx. 2400KG |
| Number Of Heating Zones | Up8/Bottom8 | Up10/Bottom10 |
| Length Of Heating Zones | 3030mm | 3730mm |
| Number of Cooling Zones | 2 | 3 |
| Control System | PLC+Computer | PLC+Computer |
| Transmission Agent | Chain + Mesh | Chain + Mesh |
| Max.Width Of PCB | 460mm | 460mm |
| Power For Warm Up | 45kw | 55kw |
| Power Consumption | 8kw | 10kw |
| Conveyor Height | 900+/-20mm | 900+/-20mm |
❙ Customers Factory
❙ Keywords:
SMT Line, SMT Prodution Line, SMT Assembly Line, SMT Stencil Printer, Solder Paste Printer, Pick and Place Machine, Chip Mounter, SMT Placement, Reflow Oven, SMT Reflow Soldering Oven, PCB Reflow Oven, SMT Loader, PCB Unloader, SMT Conveyor, Wave Soldering Machine, DIP Wave Soldering Equipment, Selective Wave Soldering Machine, PCBA Coating Machine, PCBA Insertion Machine, PCBA Router Machine.
I.C.T is a manufacturer of SMT machines. It mainly provides customers with SMT production lines including SMT Stencil Printers, Pick and place machines, Reflow Oven, AOI Machine, Wave Soldering Machine and PCB Handling Machine etc.
I.C.T has more than 25 researches on SMT and DIP technology, for the world Customers provide SMT total solutions. There are successful cases of SMT technical team in Asia, Europe, America, Africa, and Australia.
I.C.T provide SMT solutions at various stages according to the different needs of customers. I.C.T is not only a provider of SMT equipment and technology, but also is the customer's escort in the field of SMT and DIP.
Welcome more people to discuss with us about SMT technologies and solutions, please contact us for more information: WhatsApp/ Skype / WeChat: +86-13670124230,Email: etasmt@foxmail.com
❙ Hanwha SMT Production Line Video