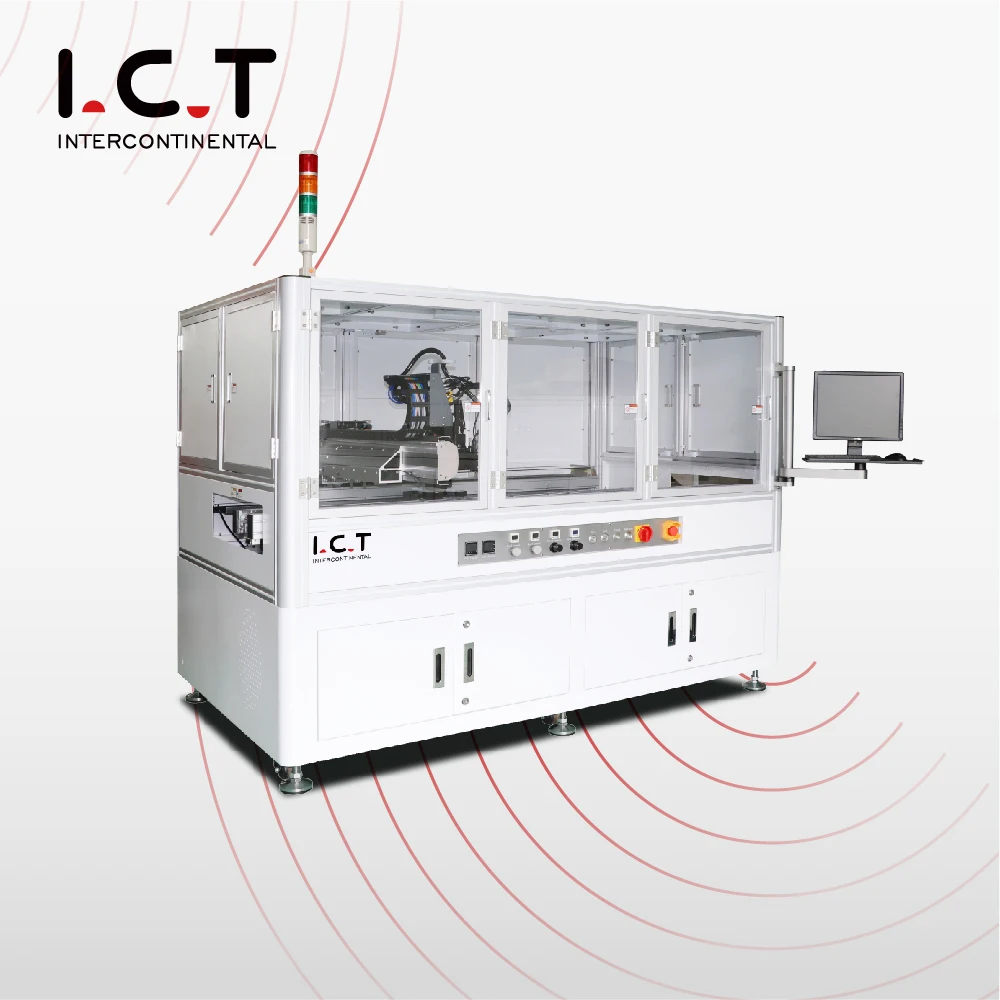 High Precision Automatic LED LENS Dispensing Machine
High Precision Automatic LED LENS Dispensing Machine
❙ Introduce of Automatic Dispensing Machine
The I.C.T dispensing system has significant strength in cost performance. Being reliable, durable, and concisely designed, it can be applied to PCB and base materials of different specifications. The UFD operating software ensures the stability and reliability of the system. The system is designed for chip sealing, PCB assembly, SMT red glue dispensing,led lens,and medical products. With adjustable track width, it can be applied to more products. axxon has established wide support and service network to provide complete process solution for the development, manufacturing and product innovation of the customers.
Platform System
Integral frame, marble platform supporting moving parts, moving parts using imported accessories, to ensure high accuracy and stability of equipment operation.
Dispensing System
Needle dispensing and spray valve dispensing can be selected. Spray valve dispensing can be fixed and rotary. CCD camera, laser altimeter and glue sensor can be selected.
Calibration System
Calibration Platform Standards: 0.1mg Electronic Scale, Scale, Ceramic Plate, Mechanical Height Detection, Vacuum Cleaning, Gluing Cup
❙ Specification of Automatic Dispensing Machine
Model
I.C.T-D400

I.C.T-D600(LENS)

I.C.T-D1200(LENS)

Dispensing Range

X400*Y400*Z60mm

X600*Y600*Z60mm

X1200*Y400*Z60mm

Vision Methodology

CCD
Cleaning System

Automatic
Injection Valve Speed

200 points/s

Power Supply

1 PH AC 220V 50/60Hz (Option:110V to 230V)

Weight
650 kg

850 kg

1150 kg

Dimension

L770*W1200*H1500mm

L1065*W1505*H1500mm

L1690*W1200*H1500mm

Click Here Get More Informaion!
❙ I.C.T Customer Factory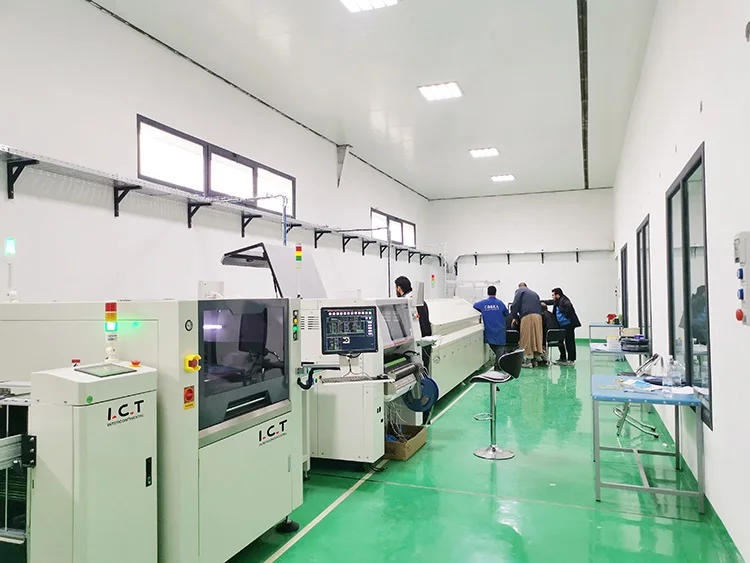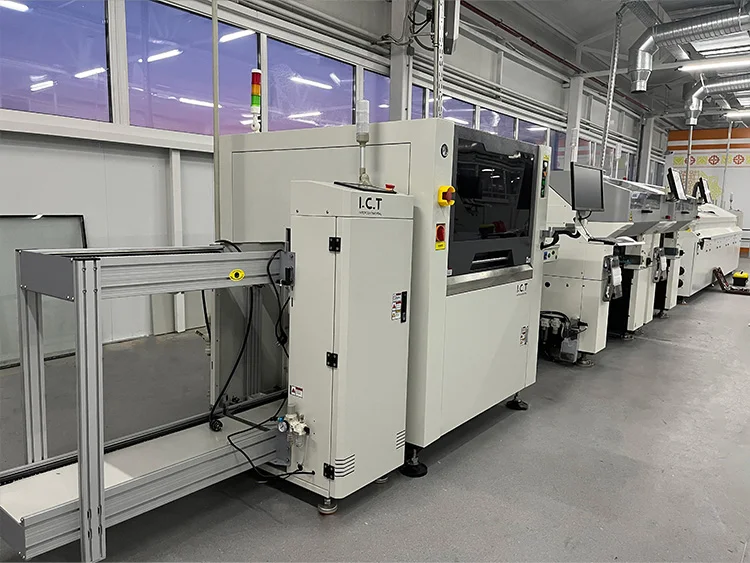 ❙ Company Profile
I.C.T is a manufacturer of SMT machines. It mainly provides customers with SMT Production Line including SMT Stencil Printer, Pick and place machine, Reflow Oven, SMT AOI Machine, Wave Soldering Machine and PCB Handling Machine etc.
I.C.T has more than 25 researches on SMT and DIP technology, for the world Customers provide SMT total solutions. There are successful cases of SMT technical team in Asia, Europe, America, Africa, and Australia.
I.C.T provide SMT solutions at various stages according to the different needs of customers. I.C.T is not only a provider of SMT equipment and technology, but also is the customer's escort in the field of SMT and DIP.
Successful Experience:
I.C.T's Customer In 35 Countries Around the World
1. We Have Been Helping Customers To Build a Lot of New Factories Around the World.
2. Training More Than 500 Experts and Technician for Customers.
3. Became the Most Reliable Chinese Partner for You.
For SMT Factory Setup, We Can Do for You:
1. We Provide Full SMT Solution for You
2. We Provide Core Technology With Our Equipments
3. We Provide The Most Professional Tech Service
Click Here Get More Informaion!
❙ I.C.T SMT Machine Exhibition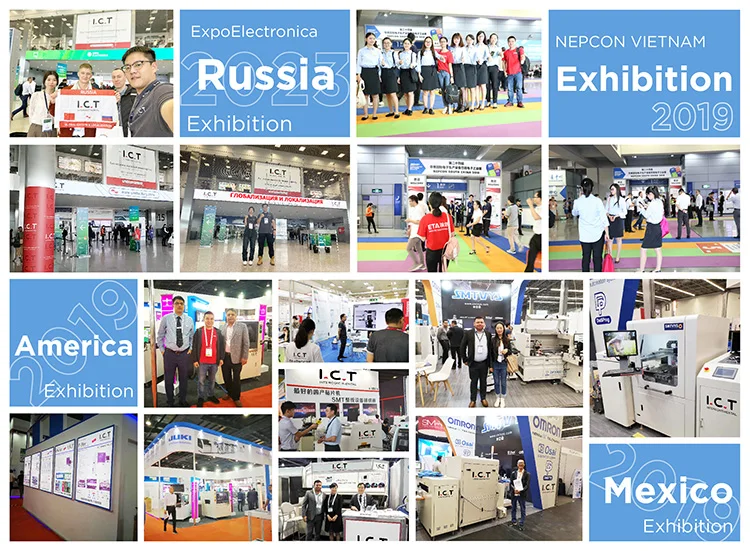 ❙ I.C.T Global Service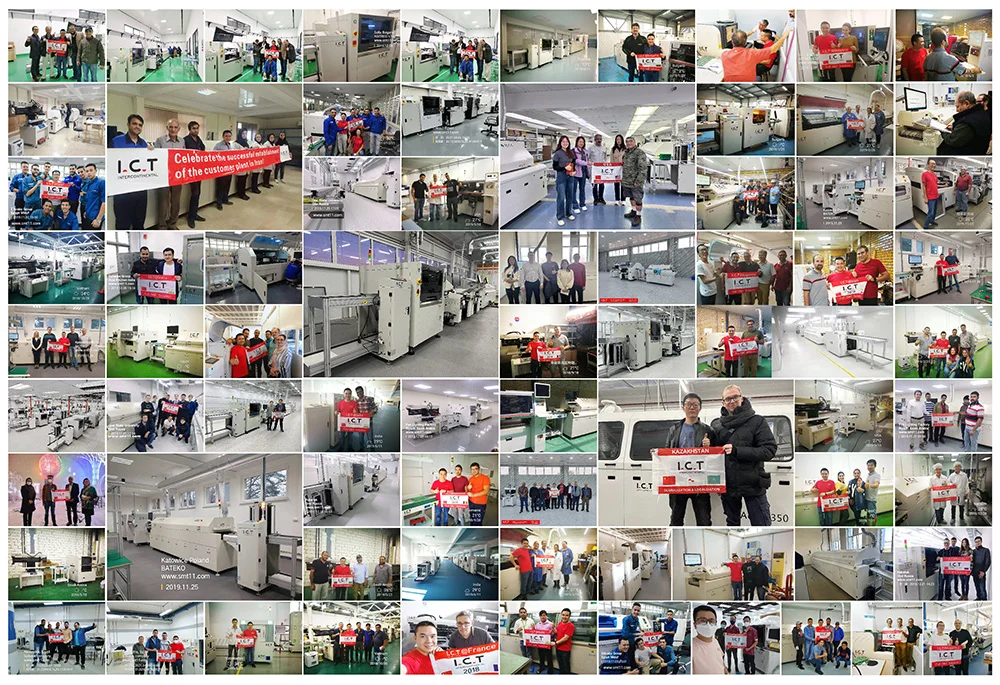 Welcome more people to discuss with us about SMT technologies and solutions, please Contact Us for more information:
Tel: +86 13670124230 (WhatsApp/Skype/WeChat), Email: info@smt11.com / etasmt@foxmail.com
❙ Automatic Dispensing MachineVideo