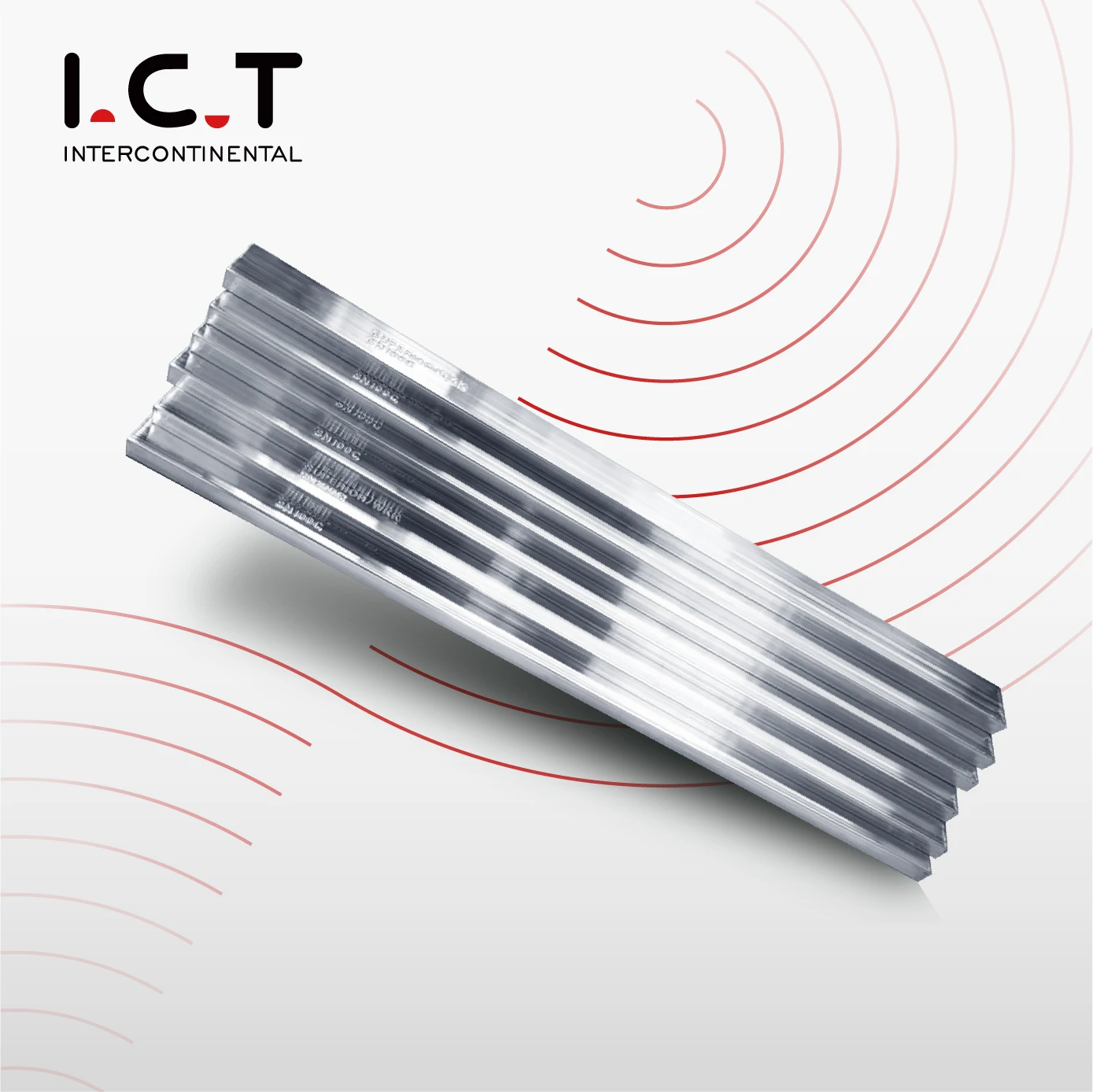 Pure Tin SN100C Lead Free Anti-oxident Silver Solder Bar
Pure Tin SN100C Lead Free Anti-oxident Silver Solder Bar
❙ Introduce
Operation mode: Multi-axis drive manipulator and software control to achieve precise positioning of the welding head.I.C.T has been working with suppliers to develop environmentally friendly lead-free solders and related materials and can now supply products that deliver high reliability. We also stand ready to work with customers in developing improved soldering materials and processes.Our objective is maximizing customer satisfaction by achieving the best possible quality and yield. Working principle: Fix the soldering iron on the robot, move to the specified welding coordinates, and automatically feed the wire at the tip; the soldering iron is welded at high temperature and engaged with the target
For Wave Soldering SN100C(Sn-Cu-Ni+Ge)
SN100C is being used in thousands of wave soldering machines around the world and has proved its reliability in products exposed to the most severe service environments.
●The trace addition of Ni means fewer shorts and no shrinkage defects.
●Ni-stabilized intermetallic layer inhibits copper erosion.
●Reliable in harsh environments.
●High ductility ensure long service life of joints subjected to cyclic strain.
●SN100C is formulated for minimal generation of dross.

High Reliability Lead-Free Solder SN100C(Sn-Cu-Ni+Ge)
● The fifinely dispersed microstructure of SN100C makes it possible to roll very thin foil without defects. The eutectic behavior of SN100C (Sn-0.7Cu-0.05Ni+Ge) lead-free preforms means good melting characteristics during reflow. The superior properties of SN100C with low intermetallic growth provide high reliability and flflexibility.

High Temperature Dipping and Tinning Solder SN100C3・SN100C4
●SN100C3 and SN100C4 make it possible to carry out dip soldering and tinning operations with minimum copper erosion.

❙ Specification

Alloy
Product code
Melting point(℃)
Sn
Ag
Cu
Ni
Ge
Other
Sn-Cu-Ni
SN100C
R
-
0.7
0.05
≦0.01
-
227
SN100CL

R
-
0.7

0.05
≦0.01
-
227
SN100C3
R
-
3.0
0.05
≦0.01
-
227-310
SN100C4
R
-
4.0

0.05
≦0.01
-
227-310
Click Here Get More Informaion!

❙ I.C.T Customer Factory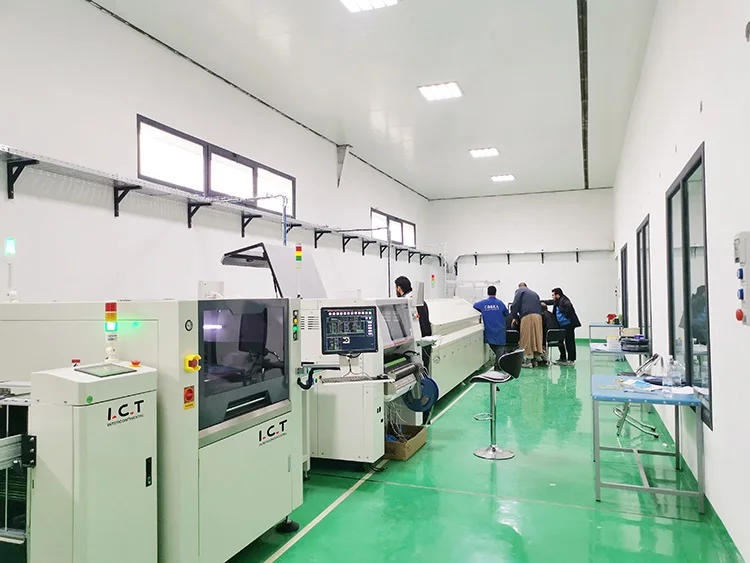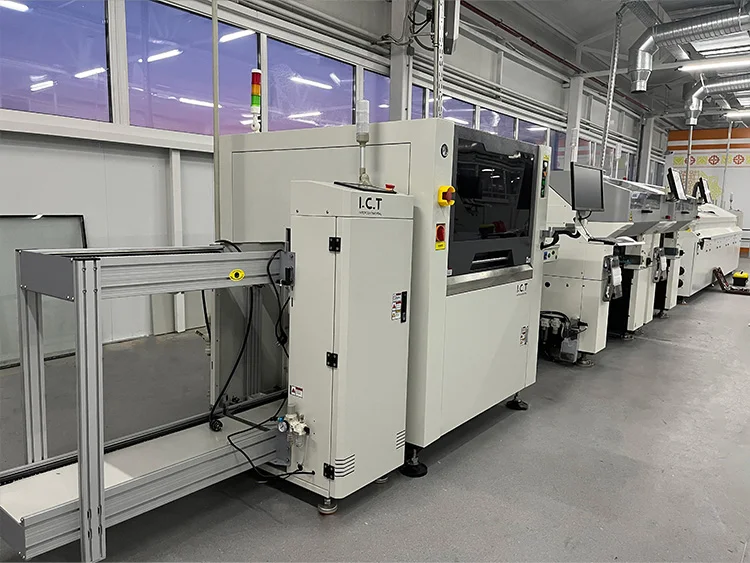 ❙ Company Profile
I.C.T is a manufacturer of SMT machines. It mainly provides customers with SMT Production Line including SMT Stencil Printer, Pick and place machine, Reflow Oven, SMT AOI Machine, Wave Soldering Machine and PCB Handling Machine etc.
I.C.T has more than 25 researches on SMT and DIP technology, for the world Customers provide SMT total solutions. There are successful cases of SMT technical team in Asia, Europe, America, Africa, and Australia.
I.C.T provide SMT solutions at various stages according to the different needs of customers. I.C.T is not only a provider of SMT equipment and technology, but also is the customer's escort in the field of SMT and DIP.
Successful Experience:
I.C.T's Customer In 35 Countries Around the World
1. We Have Been Helping Customers To Build a Lot of New Factories Around the World.
2. Training More Than 500 Experts and Technician for Customers.
3. Became the Most Reliable Chinese Partner for You.
For SMT Factory Setup, We Can Do for You:
1. We Provide Full SMT Solution for You
2. We Provide Core Technology With Our Equipments
3. We Provide The Most Professional Tech Service
Click Here Get More Informaion!
❙ I.C.T SMT Machine Exhibition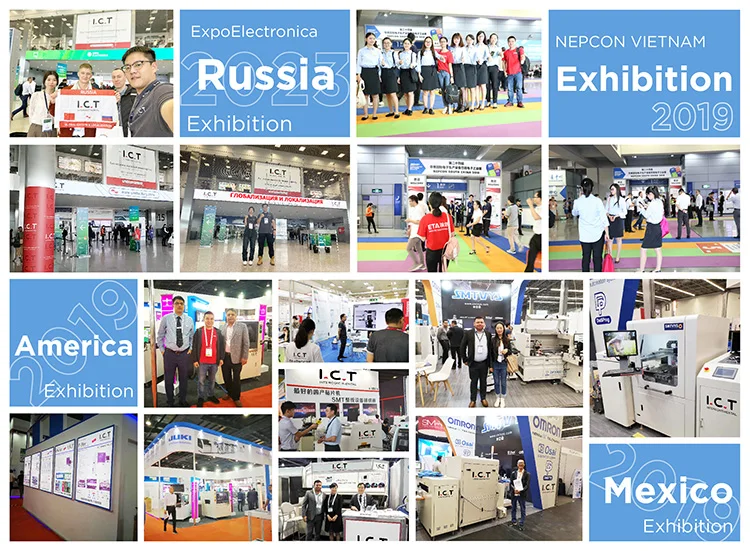 ❙ I.C.T Global Service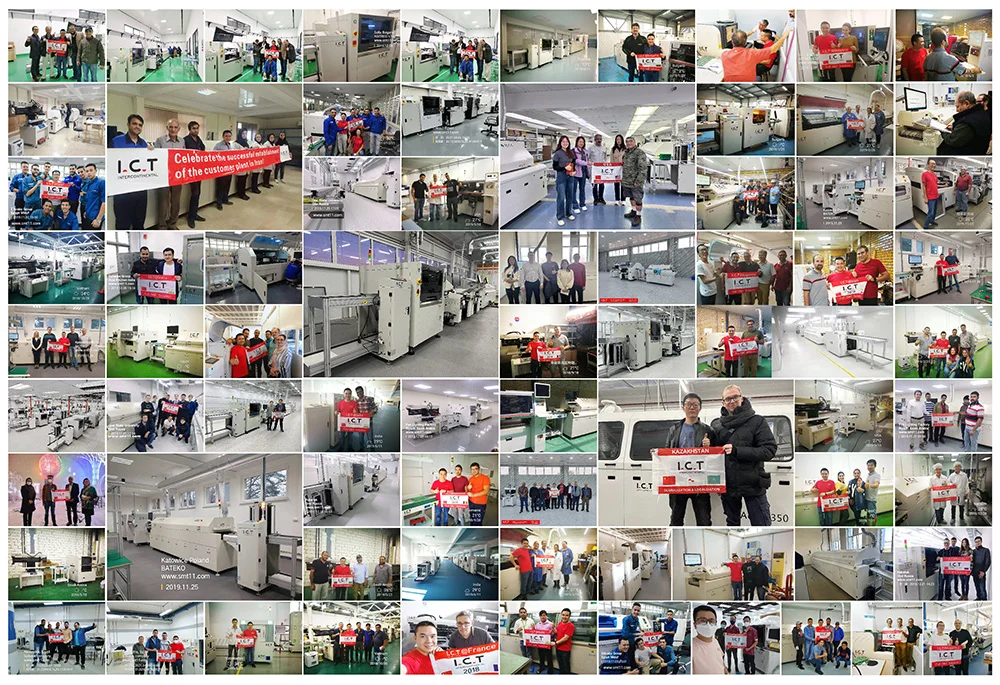 Welcome more people to discuss with us about SMT technologies and solutions, please Contact Us for more information:
Tel: +86 13670124230 (WhatsApp/Skype/WeChat), Email: info@smt11.com / etasmt@foxmail.com